What we do:
Design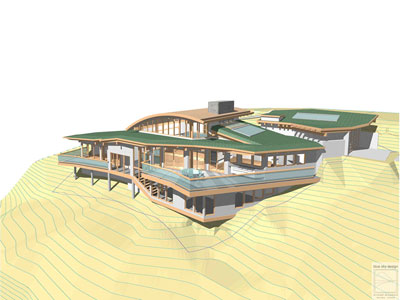 With over 35 years experience, Blue Sky Design has a long tradition of architectural design throughout the coastal and mountain communities of British Columbia. We have been internationally recognized for the design of exceptional and appropriate buildings.

The scope of our work ranges from 'dream' homes to small owner-built additions. It has included retail renovations, restaurants, budget housing, and public amenities.

Michael McNamara's design studio embodies McLuhan's "electronic cottage" concept; it is a state-of-the-art facility located on a tiny gulf island.

Project costing starts at the design stage and continues throughout the design process.

Since CAD was introduced in our daily design work in 1990, we deliver to our clients: sketches, working models, CAD-drawings, cost estimates, digital 3D-models, perspectives and walk-throughs benefitting all stages: preliminary design, design development, working and detail drawings, project documentation.

Michael works closely with clients throughout the process, and is involved in all aspects of the project, from siting the building to choosing light fixtures.
Design / Build
"Design-build, [...] focuses [...] on trying to bring design and construction into greater creative contact and confluence. In this way, the same energies and intentions inform the concept and the way it eventually is realized, extending design-thinking into the material world of construction. This necessarily involves adjusting the conventional roles of the designing and the building process: the architect and contractor, working closely with the client, share the responsibility of providing the building. The intent is collaborative rather than adversarial.[...]The alternative offered by design-build practice not only brings the architect into the building process, but empowers both builder and client to contribute to the ongoing process of designing and building." (Susan Piedmont-Palladino, Devil's Workshop, Princeton Architectural Press, 1997)

The Blue Sky Design/build tradition continues today. It's an inclusive process that promotes an environment of collaboration. Design is extended into construction, and construction issues are brought into the design to be explored very early in the development of the project. A responsiveness is generated through this creative dialogue.

Our design/build projects often go from "foundations to furniture", including all phases of project management and the sourcing of materials and services.
Construction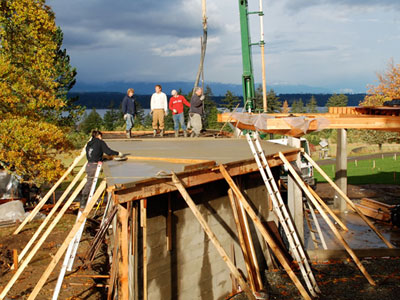 The Blue Sky crew, led by Tim Wyndham, is well versed in every aspect of small scale construction. Most of the people on our crew have worked together for many years, and bring with them a wide range of skills, from structural timber framing to fine woodworking. We pride ourselves on fine craftsmanship and professional efficiency.

The scope of our construction work encompasses a full range from dream home projects to small additions and rainwater catchment retrofits. We love working with Michael and the Blue Sky design team; and we also often do projects with other designers. Our work has been published many times.

Each project is begun with a thorough costing, based on the project documentation. Once construction begins, the project is tracked against this budget on a daily basis. We have developed our own project management system based on MicroSoft Excel which we have been using since 1986. This long history helps to bring accurate and consistent cost control to each project no matter how large or small.

Years of experience go together to bring your project in on time and on budget. If you're considering building in the Hornby Island area please give us a call, or simply send us an email and we'll get right back to you.